Celebrating Hallowe'en Around The World
All Hallows' Eve, more commonly known as Hallowe'en, is a celebration observed on 31st October. In the Middle Ages, many Christians held a folk belief that this was the night where the veil between the material world and the afterlife was at its most transparent.
Although recognised globally,  Hallowe'en is most popular in North America and Canada, and it is these countries that have encouraged the rest of the world to follow suit in terms of traditions. The ways in which Hallowe'en is celebrated around the world varies from one place to another. Let's take a look…
Hallowe'en in Ireland
Hallowe'en is said to originate from Ireland, where Celtic and pagan festivals have been held for more than 2,000 years to welcome the dark winter season – many people today will light bonfires in recognition of these historic roots.
The Irish will eat barnbrack on Hallowe'en, a type of fruitcake that hides muslin-wrapped treats throughout. These are said to foretell the finder's future – if a person finds a ring, it is said to mean that they will soon be wed; finding a piece of straw means that a prosperous year is ahead.
After trick-or-treating, most will attend Hallowe'en parties with friends and family, playing games such as apple bobbing and snap-apple. The Irish also play a treasure hunt card game where playing cards are laid face down on a table with sweets or coins underneath them. When a child chooses a card, he receives whatever prize is found beneath it.
Days of the Dead in Mexico
Hallowe'en celebrations in Mexico, Latin America, and Spain at this time of year run for three days starting on 31st October, leading up to All Souls' Day on 2nd November. The event is in remembrance of the dead who are believed to return to their earthly homes on Hallowe'en. This is known as "El Dia de Los Muertos" or Days of the Dead.
Many families will create a decorative altar, using flowers, sweets, photographs, and foods, to welcome back their deceased relatives. They will also burn candles and incense to guide their loved ones home, tidy and decorate grave sites, and hold family picnics to reminisce.
Obon Festival – Hallowe'en in Japan
The Obon Festival is a Buddhist tradition dating back more than 500 years in Japan. Similar to the Days of the Dead, Obon Festival is celebrated in July or August for three days and families pay tribute to their passed loved ones during this time, visiting graves and decorating them with gifts. It is also traditional to perform the style of Bon Odori dance while wearing special kimonos, before releasing paper lanterns into the sea to guide spirits home. In more recent years, people are incorporating cosplay into their festivities.
Hallowe'en in China
The Chinese Hallowe'en traditions have two purposes;  to remember the dead and also to free the spirits of the "pretas" in order that they might ascend to heaven. "Pretas" are believed to be the spirits of those who passed away as a result of an accident and whose bodies were consequently never buried. Under guidance from Buddhist temples, societies are formed to carry out ceremonies for the "pretas," which include lighting special lanterns, and offerings of fruit being presented. Monks are invited to recite sacred verses at these ceremonies.
la fête d'Halloween in France
Unlike the rest of the world, Hallowe'en in France is not celebrated to honour the departed, but rather it is regarded as an American holiday and was practically unheard of until around 1996. More recently, exposure to American culture through TV and film, along with commercialism, and the love of a party, the holiday is growing in popularity.
Hallowe'en in England
Hallowe'en celebrations in England typically involves children dressing up in scary costumes and spending the evening trick-or-treating in their local neighbourhood. Many will host parties, light bonfires, or watch horror films at this time of year.  Pumpkin carving is also traditional at Hallowe'en, although previous generations may have used turnips, potatoes, and beetroot for their jack-o'-lanterns.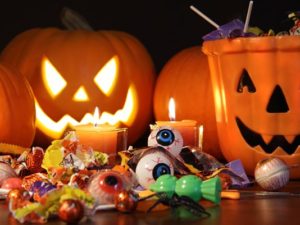 Our English language students have loads of activities to choose from in Manchester and in Liverpool this year – watch out for our posts on Facebook and Instagram to see what we get up to.
Happy All Hallows' Eve from New College Group!