Prepare For Your English Course With Our Simple Checklist
 If you are coming to study with us at New College Group then get prepared to join us by checking out our English language course checklist! 
When you're ready to join us we can imagine you'll be feeling a real mix of nerves and excitement! We can also imagine you're feeling pretty confused about what you should bring and what you should prepare?
Beginning a course abroad can be hectic, but we want to make it as easy as possible for you. So we've compiled a simple guide outlining our preparation checklist so you can effortlessly plan for your English language course. 
Documents
Preparing for a new English language course can be chaotic so it's important to keep all your documents and any photocopies safe and available to hand. 
Make sure that you have all the necessary documents available when you arrive and when registering at the college. It will really speed up the process!
Documents that are needed can vary depending on your country of residence. Make sure to double check the correct documents you need. 
Documents you will need could include: 
Check What's Included In Your Accommodation
When travelling from overseas you'll probably have to just travel with your essential items, due to luggage allowance and costs. So it's well worth finding out exactly what's included in your accommodation before you travel.
If you are staying in a home-stay accommodation then they will most likely provide you with everything you could possibly need, but you may confirm this with our accommodation team.
However, if you have chosen to rent privately or live in halls of residence then it's likely you'll have to supply your own bedding, furnishings and in some cases, cooking equipment. 
There are numerous large department stores in the UK to purchase your essential items, you can ask at reception for any recommendations or have a look in your area for any of these stores – Wilko, Dunelm, The Range, Argos, John Lewis, Asda Home, Primark Home, or Marks & Spencers and you should be able to get everything you need. 
Electrical Adaptors
Don't be caught out with the wrong adaptors for your electrical equipment. Arriving in the UK and finding your laptop, phone charger or any other essentials are incompatible is extremely inconvenient. Especially when you may want nothing more than a video call with your friends and family back home!
For the United Kingdom the associated plug type is G. Which means the plug that has three rectangular pins in a triangular pattern. The United Kingdom operates on a 230V supply voltage and 50Hz.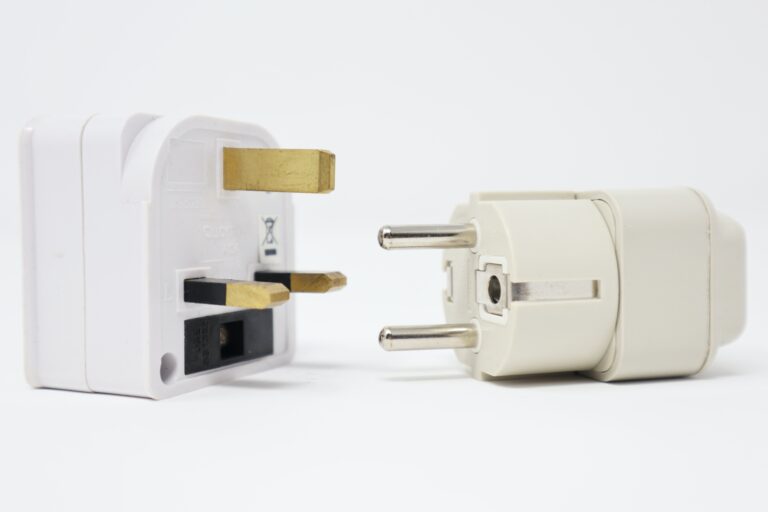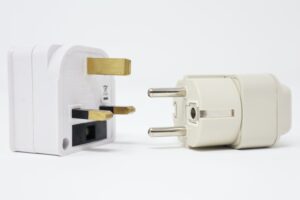 If you forget to bring an adaptor from home then there are plenty of stores where you can purchase all of your travel essentials. Try Boots, Wilko, Argos, Superdrug or any electrical shop including PC World or Currys. Don't forget you can always turn to reception for any help. 
Budgeting
Before arriving you should have already worked out exactly how you will fund your course fees and accommodation. However, it isn't always easy to stick to a rigid budget for the general cost of living when you arrive in a new city – especially at the colleges in our big cities.
There are many websites online where you can look at the average costs of certain items abroad such as this one for Manchester, Liverpool or this one for Dublin. Prepare for your English language course by creating a sensible budget. Creating a realistic budget that you believe you can stick to will greatly help you manage your money and spend smartly whilst studying abroad. 
Try to stick to your daily spending allowance or use one of the many free tools to manage your spending. Many banks now have built-in budgeting tools, but for student-specific budgeting the Student Calculator website is great for managing your outgoings and seeing how much you could potentially save.
Prepare with Course Materials
Learning what, if any, materials you need to prepare for your English language course will be a great help when getting ready to join us.
A quick email to your course provider is a great way to find out if there's any reading materials or textbooks which would help you plan for your course, especially if you're a little worried about taking on a new English language course.
Keep a List of Essential Numbers
Arriving in a new city can be daunting, but keeping an essential list of contacts on you when you're out and about can help you feel much more confident.
It's always useful to know help is at hand should you need it.
It's also good to keep an 'emergency' cash fund. Many students find that popping a £5 note somewhere safe (a jacket pocket or phone case) is very useful for any last-minute public transport trips.
We suggest you keep the following numbers stored in your phone/diary before coming to the UK:
999 – In the UK we call this number for emergency services (police, ambulance and fire).

111 – NHS Direct – very useful if you are feeling unwell and aren't sure if it's severe enough for hospital admission.

+44 (0) 161 233 4290 – New College Group main phone line.
If you arriving to New College Manchester these numbers may be very useful to save in advance:
+44 (0) 161 233 4290 – New College Manchester phone number. 

0161 270 8701 – Taxi Service 
If you arriving to New College Liverpool these numbers may be very useful to save in advance:
+44 (0) 151 236 2749 – New College Liverpool phone number.

 0151 722 8888 – Taxi Service
If you arriving to New College Dublin these numbers may be very useful to save in advance:
+353 1 230 1100 – New College Dublin phone number.

01 285 7777 – Taxi Service (Dun Laoghaire) 
Of course, if you have any useful tips of your own then please feel free to share them with us on Facebook! You can also get in touch with our helpful team if you have any concerns or questions about how to prepare for your English language course with us, don't be shy, we're very friendly!